Seasons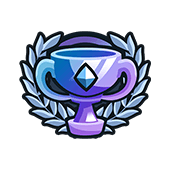 Upon hitting the rank of Legendary, the structure of the game changes into Seasons.
Seasons are timed, repeating content that gives you essentially unlimited things to do and awesome new rewards based on how well you perform within a season.
At the beginning of every season, you begin at the rank of "Challenger" with 0 season points and can rank up all the way to "Legend" and gain several different rewards in that process, much in the same way you rank from bronze to silver, from silver to gold, from gold to Platnum, from platnum to diamond and from diamond to legendary .
Over the season you get rewards from the Trophy Road by increasing your rank. Those rewards vary between many different items like customizations, tuning parts, chests, etc. Everyone then starts all over again from 0 at the end of each season and competes to be the best for the new season yet again.
Seasons will restart at the beginning of each month.
When you download the game for the first time, you will start with Road to Legendary and when you reach legendary rank, you will unlock the trophy road.
Rank
Minimum Points

to attain

Challenger
0+ ( Start Rank)
Master
10,000+
Champion
20,000+
Grand Master
30,000+
Divine
40,000+
Legend
50,000+
During each season, you can only race in specific scheduled cups to obtain season points. Every season will contain different cups to obtain season points. For those scheduled cups which have no regular sequences, they will be chosen randomly. Also, in the "Cups"-Tab, season section, it's shown how many stages a cup contains.
Those cups will also have seasonal leaderboards that are just the same as global, just for each season. They can be found in the "Cups"-Tab, cups section. So when you make a new personal best it will not only be shown in the global leaderboards but in the seasonal leaderboards as well. For the seasonal bests you don't have to improve your personal best.
Of course, you can also race all the other cups existing in the game by scrolling down to the bottom of the "Cups"-Tab, cups section. Those will also include seasonal leaderboards, but are not scheduled in the seasonal cups to obtain season points.
The Trophy Road is the new seasonal progression system since the V1.32.0 of Hill Climb Racing 2.
In this progression system you get rewarded with different items like tuning parts, coins, gems, etc. by participating in the seasonal cups and increasing your rank points.
There will be rewards from 0 to 50,000 points on the Trophy Road. From then on, you can still increase your amount of rank points, but you will not be able to gain any rewards for the rest of the season. Points collected from the season will also be counted towards your overall rank.
By purchasing the Premium-Pass (for real money, price varies depending on region and operating system), you expand all your rewards on the Trophy Road, up to 50,000 points. With this pass you will also be able to collect customizations. If you already own these customizations, they will be changed to gems.
After purchasing the Premium-Pass, you will have it until the season ends, but you will still gain all rewards for Premium subscribers.
The Premium-Pass is not a monthly, automatically paid subscription, but you will have to pay for it manually each season, except if you are subscribed to the VIP Subscription. This subscription includes the Premium-Pass and is not separately paid for when you have already purchased VIP.